Chief Executive Officer
"Ocean Tomo is well into its second decade yet both the excitement and the opportunity are as strong today as in 2003. "
Chicago Office
+1 312 327 4410
jmalackowski@oceantomo.com
vCard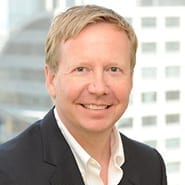 Co-founder
Jim co-founded the firm and serves as Chairman and Chief Executive Officer
Testifying Expert
On more than fifty occasions, Jim has served as an expert in U.S. Federal Court, U.S. Bankruptcy Court, State Court, the Ontario Superior Court of Justice.
Trade Association Leader
Past President of the Licensing Executives Society International (LESI)
James E. Malackowski is the Co-Founder and Chief Executive Officer of Ocean Tomo, LLC, the Intellectual Capital Merchant Banc™ firm providing industry leading financial products and services related to intellectual property including financial expert testimony, valuation, strategy consulting, patent analytics, investment management and transaction brokerage. Ocean Tomo assists clients – corporations, law firms, governments and institutional investors – in realizing Intellectual Capital Equity® value broadly defined.  Subsidiaries of Ocean Tomo include Ocean Tomo Investments Group, LLC, a registered broker dealer, and Ocean Tomo International (HK) Ltd.
Mr. Malackowski is a founding and continuous member of the IP Hall of Fame Academy.  He has been recognized annually since 2007 by leading industry publications as one of the 'World's Leading IP Strategists'.   Significantly, Mr. Malackowski is listed among "50 Under 45" by IP Law & Business™; included in the National Law Journal's inaugural list of 50 Intellectual Property Trailblazers & Pioneers; and, named as one of "The Most Influential People in IP" by Managing Intellectual Property™.  Mr. Malackowski was named as1 of 50 individuals, companies and institutions that framed the first 50 issues of IAM Magazine as well as 1 of 60 leading global Economics Expert Witnesses by the same publication in 2014.  In 2011 Mr. Malackowski was selected by the World Economic Forum as one of less than twenty members of the Network of Global Agenda Councils to focus on questions of IP policy.  In 2013 he was inducted into the Chicago Area Entrepreneurship Hall of Fame by the Institute for Entrepreneurial Studies at the University of Illinois at Chicago College of Business Administration.  In 2018, Mr. Malackowski joined the Standards Development Organization Board of the Licensing Executives Society (USA & Canada), Inc. governing voluntary consensus-based professional practices that are guided in their development by the American National Standards Institute's (ANSI's) Essential Requirements.  LES standards are designed to encourage and teach consensus practices in many of the business process aspects of intellectual capital management.
On more than fifty occasions, Mr. Malackowski has served as an expert in U.S. Federal Court, U.S. Bankruptcy Court, State Court, Court of Chancery, the Ontario Superior Court of Justice and global arbitrations on questions relating to intellectual property economics including the subject of valuation, reasonable royalty, lost profits, price erosion, commercial success, corrective advertising, creditor allocations, Hatch Waxman Act market exclusivity, business significance of licensing terms including RAND obligations, venture financing, including expected risk / return, and equities of a potential injunction.  Mr. Malackowski's experience extends to matters of general business valuation and commercial disputes, both domestic and foreign.  Mr. Malackowski has publicly addressed policy issues affecting international trade and has provided expert opinions concerning antidumping and countervailing duties imposed by the U.S. Department of Commerce as well as testimony on domestic industry, bond and remedies before the International Trade Commission.
Mr. Malackowski has substantial experience as a Board Director for leading technology corporations and research organizations as well as companies with critical brand management issues.  He is Past President of The Licensing Executives Society International, Inc. as well as its largest chapter, LES USA & Canada, Inc.  Mr. Malackowski focuses his non-for-profit efforts with organizations leveraging science and innovation for the benefit of children, including those located in lesser developed countries.  He has served since 2002 as a Trustee or Director of the National Inventors Hall of Fame, Inc., an organization providing summer enrichment programs for more than 100,000 students annually.  For more than ten years Mr. Malackowski served as a Director of Chicago's Stanley Manne Children's Research Institute, advancing the organization's agenda to measure and report the impact of its pediatric research.
Mr. Malackowski is a frequent speaker on emerging technology markets and related financial measures.  He has addressed mass media audiences including Bloomberg Morning Call, Bloomberg Evening Market Pulse, Bloomberg Final Word, CNBC Closing Bell, CNBC On the Money, CNBC Street Signs, CNBC World Wide Exchange, CBS News Radio and Fox Business National Television as well as other recognized news-based internet video channels.  Mr. Malackowski is a current or past judge for the Illinois Technology Association's CityLIGHTS™ Innovation Awards program, the University of Notre Dame McCloskey Venture Competition, the 1st Source Faculty Commercialization Awards and PBS's Everyday Edisons.
As an inventor, Mr. Malackowski has more than twenty issued U.S. patents.  He is a frequent instructor for graduate studies on IP management and markets and a Summa Cum Laude graduate of the University of Notre Dame majoring in accountancy and philosophy.  Mr. Malackowski is Certified/Accredited in Financial Forensics, Business Valuation and Blockchain Fundamentals.  He is a Certified Licensing Professional and a Registered Certified Public Accountant in the State of Illinois.  Mr. Malackowski has been certified to receive United States Security Information (SSI) as governed by Title 49 Code of Federal Regulations.
You can request a full CV here or by emailing marketing@oceantomo.com.